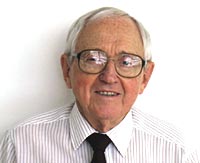 Dr. Alvin F. Weber became a faculty member at the University of Minnesota College of Medicine in 1949. He served as head of the Department of Veterinary Anatomy between 1965 and 1973.
Interview Abstract
Alvin F. Weber begins by discussing the influence of his rural upbringing on his decision to pursue veterinary medicine through college, at the University of Wisconsin, veterinary school, at the University of Iowa, and graduate studies, again at the University of Wisconsin. He discusses his close brush with military service and his move to the University of Minnesota in 1949. He comments on the impact of the electron microscope and his work on the International Nomenclature Committee. He then recounts his international research during sabbaticals working on cattle leukemia. He discusses his relationships with other faculty members like William Boyd, Bill Thorp, and Sid Ewing. He talks about the 1985 affiliation of the College with the AHC and about running the diagnostics facility at the University of Minnesota. He describes building, both structurally and programmatically, the Veterinary College, funding struggles, increasing numbers of female students over the years, technological and medical advances, and the development of small animal medicine. He also recounts his chromosomal research in cattle.
Biographical Sketch
Alvin F. Weber was born in 1918 on a farm near Hartford, Wisconsin. After growing up caring for the family farm animals, he graduated from the University of Wisconsin in pre-veterinary studies in 1941. He received his veterinary degree from Iowa State University in 1944. After practicing for a while and becoming frustrated with the limited scientific means with which to treat animals, he began his graduate studies at the University of Wisconsin, where he received a M.S. in 1946 and a Doctorate in Veterinary Medicine in 1949. As a member of the faculty at the University of Minnesota since 1949, Dr. Weber has been involved in the development of the College of Veterinary Medicine almost since its foundation in 1947. He was the head of the department of Veterinary Anatomy between 1965 and 1973. He did research on cattle leukemia on two international NIH fellowships in 1959-60 and 1971-72 and was on the International Anatomical Nomenclature Committee. Dr. Weber's research has focused on cytology, ultrasound and cytogenetics in relation to reproductive and hematopoietic systems.
Interview Transcript
AWeber.pdf